In May, the Georgia Department of Community Affairs (DCA) released a survey made to facilitate the matching of Federally Qualified Opportunity Zone (OZ) development proposals to funders. Part of the 2017 Tax Cuts and Jobs Act, this OZ initiative encourages the flow of capital into communities suffering from disinvestment. To be eligible for the benefits associated with the OZ tax incentives, investors must deploy capital into underserved areas in one of three ways: by purchasing stock or taking partnership in a business located in an OZ, or by purchasing property used to do business within an OZ.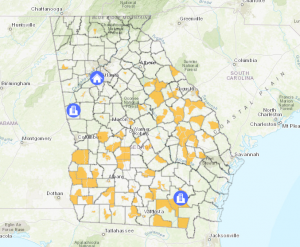 DCA has facilitated this process by producing an online survey, available here, where prospective developers in search of investment capital can advertise their plans. The survey application first checks the location of the project against the boundaries of Georgia's federal OZs to ensure that all posted proposals are indeed located within the boundaries of an eligible area. Then, a series of questions that help prospective developers summarize their plans follow. On submission of the survey, a point indicating the proposed development will be mapped onto the state's federal OZ development opportunity map.
With the federal OZ development opportunity map, DCA has sought to create a centralized location where investors may look at all proposed OZ developments within the state, so they may determine where they wish to make tax-incentivized investments.
By publishing these development opportunities, the DCA does not endorse such projects, as they are only vetted for locational eligibility. Rather, the agency's intention is to provide a platform where development opportunities can easily be found by investors with the funds required to realize such initiatives.
For more information about the new federal OZ program and to access the development opportunity survey, visit DCA's website.
The map is updated with new opportunities every Friday. This communication is not confidential. Any recipient is encouraged to distribute it to any individual or entity who may be interested in the State of Georgia's Federal Opportunity Zones Program.